Georgina Knock
Deliver better procurement decisions
Tracking the quality of products has never been more important in fresh fruit, salad and vegetables. Greater visibility from farm and field, means the perfect quality produce can arrive at the right time in the shops for the customers.
KisanHub provides reliable data on crop quality to optimise your procurement and distribution, plus reduce the likelihood of rejections. We support our customers by providing traceability through our Quality tool, so they can improve every procurement and selling decision.
Benefits for Procurement
Quality specification templates can be quickly and easily set up for different crops, to collect the quality parameters relevant to you, with threshold values added for each market that you supply.

These templates can be saved and then used by your team or growers to collect the data against a plot or lot of produce; either straight into the platform or from your lab report spreadsheet.

Once saved, the market suitability for your products is automatically calculated, relative to the specified threshold values.

A detailed report is viewable for each plot, showing the most up to date market suitability as well as any previous results captured.

Plots across your team can be filtered by market suitability to quickly display a list of produce suitable to fulfil certain contracts.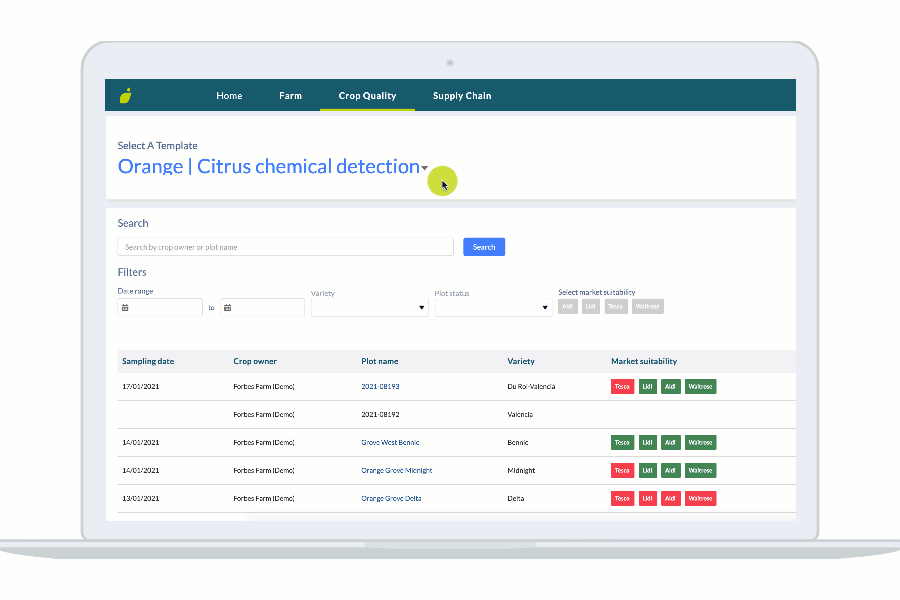 Whether you measure physical crop attributes in the field or conduct lab detection tests, the KisanHub Quality tool collects and stores your data in a secure, easily accessible online platform; available any time, any place.
Software solutions like KisanHub support procurement activities and provide a collaborative approach to these multiple aspects involved e.g. planning, supply and demand management, inventory, logistics, transportation, and ultimately sharing this information to satisfy the need of the end customers.
Complimenting our Quality tool, we bring you new

Paperless Load Passports to remove more paperwork.
On its journey from farm to factory, our food requires manual paperwork for every lorry load or container. Our digital solution ensures no more pieces of paper flying around, unreadable, scribbly handwriting or lost tickets. With paperless load passports, we save trees and your time.
From the office or the farm, all you need is your mobile phone to send a load passport and load tickets electronically;
Reduce errors by pre-populating data from one central online system

Quickly create customer-tailored passport templates

Easily manage non-contracted crops for same-day fulfilment.

All of this comes with a digital audit trail to quickly demonstrate compliance.
Our cloud-based solutions mean data is accessible from any device, ideal for the remote, fast-paced environment we work in today. Find out how we are connecting data, people and supply chains from seed to sale.
Got 5 minutes?

Get in touch

with our team and we'll do the rest.